Coulee Bend Patriot
Last Updated on July 13, 2010
---
Pat is a very typey, well built colt with alot of 'strut' in his step. Proud as a peacock and very typey! Pat loves to be worked with, learns fast and is going to be an amazing performance horse. Lots of drive off the hind end, this powerful mover has amazing extensions and could excel in many disciplines. Pat is DNA color confirmed E/e A/A N/Z and so, carries the silver dapple gene. At this time he is one of a very few confirmed silver dapples in the Morgan Breed - we are very happy to announce that Patriot will be going to Anne Ward and Diane Barker of Creekside Morgans in Michigan. They have great plans for Patriot and we look forward to following his career and wish you all the best with this talented colt !
---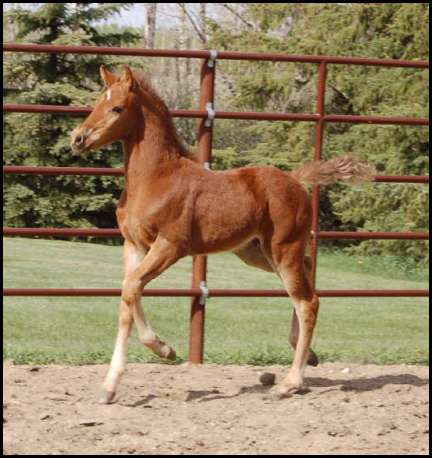 ---
Pedigree for Coulee Bend Patriot
Morgan
2010 Silver Dapple Bay Colt
Sire
Unconventional
Sire
Gone Gold
Sire
Adiel's Casino Gold
Sire
Sweet's Dexter
Dam
Eden Rose
Dam
Kennebec Topaz
Sire
Medomak Cavalier
Dam
Kennebec Opal
Dam
Foxton Frosty Dawn
Sire
Foxton Society Beau
Sire
Society Statusmaster
Dam
Dores Day
Dam
Foxton Smokey Dawn
Sire
Topside Midnight
Dam
Foxton Felicia
Dam
Pure Country Love Song
Sire
Adiel's Casino Gold
Sire
Sweet's Dexter
Sire
T-Bone Bimbo
Dam
T-Bone Fella Della
Dam
Eden Rose
Sire
Nugget Red Hannesman
Dam
Patti Eager
Dam
SFM Silhouette
Sire
SFM Hallelujah
Sire
Amen Brother
Dam
Dellmara Moon Mist
Dam
Hialeah's Shadow
Sire
Moondrift Idol
Dam
Elvistas Hialeah
---

By D.L.C. Consulting Inc.