Coulee Bend Legacy
Last Updated on Sept. 05/2006
---
When we were looking to breed our top show mare - Contessa - (muliple In Hand, western, hunter and trail winner) - to an outside stallion, we chose Greentree Brigadier and we weren't dissappointed !! Brigadier is a World Champion in carriage driving, as well as a versatile champion in hunter and western pleasure - his movement, extensions, and overall athletic ability was a sure compliment to Contessa, and it worked !! 'Legs' is a big, leggy, pure black colt who already shows the incredible athleticism we were looking for. Great disposition, well put together, nice top line - he is sure to be the perfect replacement upon Contessa's retirement.
---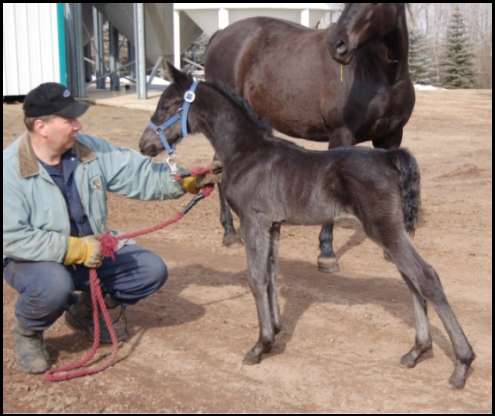 Pedigree for Coulee Bend Legacy

Sire
Greentree Brigadier
Sire
Greentree Bonniejohn
Sire
Orcland John Darling
Sire
Ulendon
Dam
Anna Darling
Dam
Bonita Graham
Sire
Stetson
Dam
Antlers Bonnie
Dam
Lady Brigadier
Sire
Broadwall Brigadier
Sire
Parade
Dam
Bonanya
Dam
Lady Rockwood
Sire
Shenandoah Red
Dam
May Rockwood
Dam
Coulee Bend Contessa
Sire
La Loma Landmark Command
Sire
Immortal Command
Sire
Waseeka's In Command
Dam
UVM Vision
Dam
Whitmoor Mademoisell
Sire
Kane's High Society
Dam
Green Meads Annette
Dam
JMF Miss T Beam
Sire
Whispering High Beam
Sire
Beamington
Dam
Highover Desiree
Dam
WSS Shakers Gwinn
Sire
Shakers Ba Ba
Dam
TVM Gwinever
---

By D.L.C. Consulting Inc.