Coulee Bend Kinesis
Last Updated on Oct. 05/2005
---
'Kenny' is a gorgeous colt, with a very upright neck, buggy eyes and a wonderful attitude. He is a very friendly colt who loves attention and loves to show off ! Kenny will be making his home in Bon Accord with new owner Janet Spiess. Janet has plans for Kenny to be her next carriage horse, and we look forward to following his progress. Have fun with your new by Janet !!

---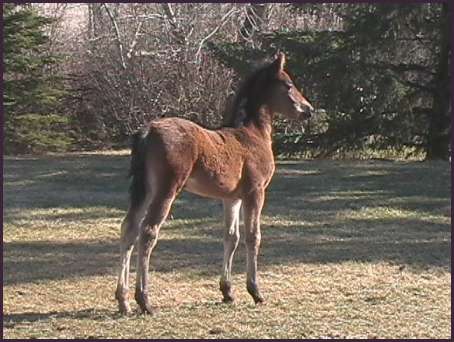 ---
Pedigree for Coulee Bend Kinesis
Sire
UVM Thomise
Sire
UVM Promise
Sire
UVM Highlight
Sire
Orcland Vigildon
Dam
Symphonee
Dam
UVM Empress
Sire
Stanfield
Dam
Inez
Dam
UVM Josie B
Sire
UVM Flash
Sire
Upwey Ben Don
Dam
Norma
Dam
UVM Kathy
Sire
Orcland Vigildon
Dam
Symphonee
Dam
KLN Miss Adept
Sire
Heyday Black Adept
Sire
Heyday Independence
Sire
Saddleback Sealect
Dam
UVM Kerry
Dam
Heyday Amulette
Sire
Easton's Talisman
Dam
Funquest Daisy Doll
Dam
Oaklea Miss Carousel
Sire
Carolina Cabaret
Sire
Empyrean Apollo
Dam
JJ's Nancy Jane
Dam
Tara's Cassandra
Sire
Empyrean Apollo
Dam
Tara's Delight
---

By D.L.C. Consulting Inc.