Coulee Bend Katrina
Last Updated Jan. 2, 2008
---
This gorgeous brown/black filly is making her new home in B.C. with Marven Blanchard, who will be using her in his breeding program. Kat is a very elegant filly with tons of athleticism, topped off with a very chiseled face, gorgeous top line, well laid back shoulder, beautiful hingey neck, and a trot that you could watch all day ! We wish you many happy, healthy foals from Kat !!
---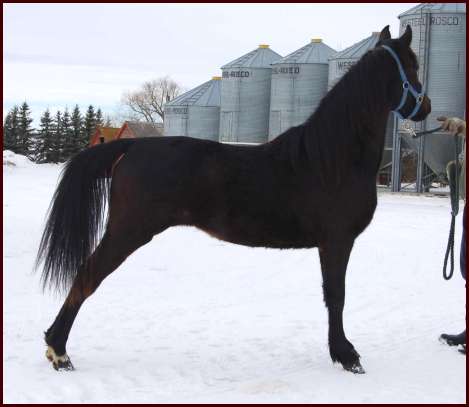 ---
Sire
Season's Forever French
Sire
Futurity French Command
Sire
Carlyle Command
Sire
Waseeka's In Command
Dam
Wawayanda Bay Maebel
Dam
Nobelle
Sire
Noble Command
Dam
Waseeka Valiant Lady
Dam
Jante Fancy Fashion
Sire
Forevermore
Sire
Beamington
Dam
Merwin Madonna
Dam
Shaelena
Sire
Medomak King Cobra
Dam
Azurewood high Time
Dam
Promise Me An Echo
Sire
UVM Thomise
Sire
UVM Promise
Sire
UVM Highlight
Dam
UVM Empress
Dam
UVM Josie B
Sire
UVM FLash
Dam
UVM Kathy
Dam
KLN Peaches 'n' Cream
Sire
Final Command
Sire
Waseeka's In Command
Dam
Stonewall Whisper
Dam
Arduns Victoria
Sire
UVM Viking
Dam
Arduns Kaylee
---

By D.L.C. Consulting Inc.