Coulee Bend Just My Style
Last Updated June 19, 2004
---
'Justy' has definately received all the best attributes of both sire and dam. He has Tommy's extreme showy attitude and a look that just grabs your eye, and a great combination of the movement that both mom & dad possess. This beautiful bay colt is definately show ring bound !
---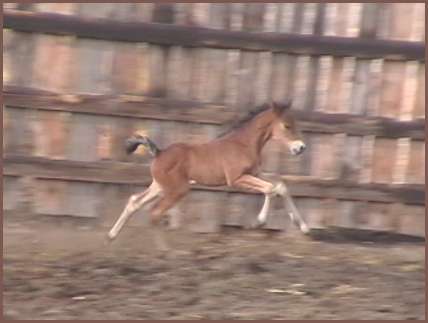 ---
Pedigree for Coulee Bend Just My Style
Sire
UVM Thomise
Sire
UVM Promise
Sire
UVM Highlight
Sire
Orcland Vigildon
Dam
Symphonee
Dam
UVM Empress
Sire
Stanfield
Dam
Inez
Dam
UVM Josie B
Sire
UVM Flash
Sire
Upwey Ben Don
Dam
Norma
Dam
UVM Kathy
Sire
Orcland Vigildon
Dam
Symphonee
Dam
KLN Miss Adept
Sire
Heyday Black Adept
Sire
Heyday Independence
Sire
Saddleback Sealect
Dam
UVM Kerry
Dam
Heyday Amulette
Sire
Easton's Talisman
Dam
Funquest Daisy Doll
Dam
Oaklea Miss Carousel
Sire
Carolina Cabaret
Sire
Empyrean Apollo
Dam
JJ's Nancy Jane
Dam
Tara's Cassandra
Sire
Empyrean Apollo
Dam
Tara's Delight
---

By D.L.C. Consulting Inc.